Key Organizer
Our software provides key tracking for master-key system lock management for your facilities management or e.g. the departments construction and maintenance. Key-to-door assignments (which keys open which doors) can be changed as requested by department. You can have a free trial on the Key Manager - our lock and key administration software.

More than 850 companies with integrated building services and security technology, property management, municipal administration and public buildings, schools, retirement homes, hotels, hospitals & clinics, homes for the aged and organizations have decided for security through our key management KeyOrganizer during the last five years. Popular places of action of the key management program are departments like maintenance and technology, building equipment and appliances, departments of building construction and planning, real estates, facilities management, caretaker and janitors, doormen and reception area with key cabinets (depot), computer appliance and organization, as well as the human resources department and administration. Try out the test version of our program free of charge! If you have further inquiries, please do not hesitate to contact us.

Key Management is a term that only entered the computer applications and software sector in the last decade. It describes a combination of keeping a key log respectively a key file, printing of key issuance receipts (key issuance / key handing over), observing deadlines for key return, inquiring about access authorization, displaying lock possibilities, e.g. of group keys, and other useful analyses, which one can retrieve with management software by clicking on the button.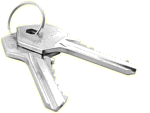 Simple cylinder locks with a similar set up of today's cylinder locks have been available for more than 150 years. Locking systems and master key systems with group lockings, however, only spread in the the building services sector in the last few decades. Whilst in family-run businesses keys were only handed over to confidential persons and certain persons like a facility manager earlier, with business sizes and structures of today key management, which is not merely based on loyalty and faith, has been necessary for long.

"We do everything on little notes here", reported an employee of a large and renowned company years ago. However, key logs and key archives are outdated from today's point of view, since there execution and ordering allows search only in one direction. Also, simple tables at a computer are only useful with restriction, e.g. if a person does not only have one, but several keys (or transponders), specific search inquiries are not even possible at all.

First programs which managed lockings and key issuance in human resources developed on DOS-basis 20 years ago. Our modern software "Key Organizer" is not only a new development for Windows®, but a highly specialized data base application, which was developed for requirements of key management from the beginning. On the download page you can download and test our key software as shareware, or free ware respectively, immediately. Our key program comprises an audit-proof journal, print out of key receipts (acknowledgement of key receipt), inquiry about access authorization, key number available (inventory of the current number of security keys in the key depot), observance of return deadlines, display of a locking plan, deposit of a ground plan of a building (Facility Management CAFM), networking skills and further tools.

For facilities management, lock and key management software to issue master keys, house keys, transponder cards or entry keys to authorized persons is utterly necessary. Our database software complements the physical security of your plant location by tracking the keys/cards issued to the key holders.

Record keeping of who has which keys - faculty, staff or employees, to whom room keys have been issued, are responsible for signing a key issuance record and returning keys to department upon termination - keeps maintaining security for any key issued. This is done in the key issue log. You can assign a key to one or more key cabinets/depots or key boxes. The lost key report and overdue key report are also very helpful. A key control program that can print key receipts (key request form) comes in handy for transfer.

In our organizing software for keys, keys can be issued from a key cabinet. Usually the facility locksmith issues keys to personnel and other people. He is also in charge of a master pass key (MPK) which locks all cylinders/doors of a master key system. With our software you can provide for single keys (change keys or master key) and bunches of keys (keyrings). If you work with lock groups, you can define the lockings very easily without having to separately assign cylinders or doors to the key. If you assign a group, the key will automatically lock the associated sub-groups. Our software supports keys of mechanical and cards/transponders for digital door locks.

In the past 5 years, more than 850 mid-sized and large companies took their decision in favor of our key register software for master key systems, key cards, vehicle keys, and locker keys. Key issuance (and return of keys) and master-key management program for business premises is what we are best at.